Tips for shooting a wedding when you're not a wedding photographer – Popular Photography Magazine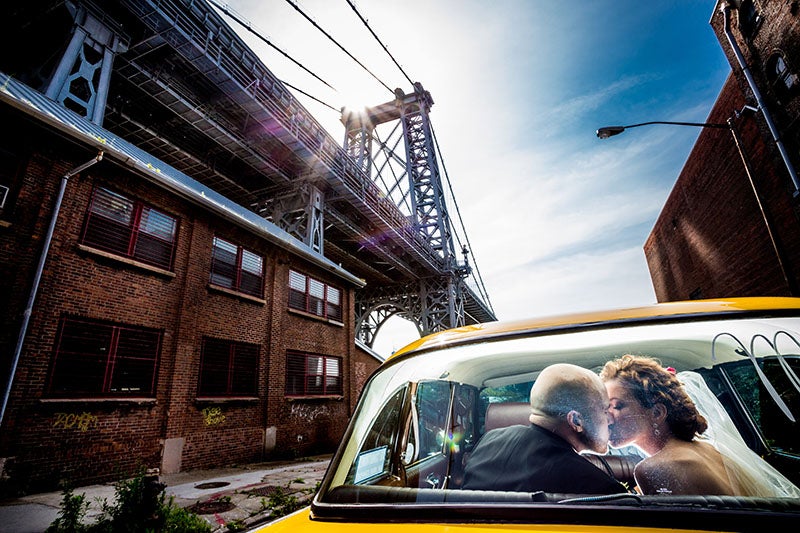 Emily Z. Photography for all your photography needs.
25 ways to help you prevail at this high-pressure—and usually rewarding—temporary gig.
By Peter Kolonia | Published Jun 18, 2014 6:13 PM
If you're a decent photographer, sooner or later someone will ask you to capture their nuptials. While this is a job often best left to pros, you can up your odds of success with a bit of preparation. Here are 25 ways to stay friends if someone asks you "shoot my wedding!"
DO be clear about what you're offering. "Make sure the couple knows that you're shooting as a favor and that you can't guarantee results," says New York City-based wedding pro Cappy Hotchkiss. "I've seen many friendships end over this." Limit expectations, and "don't get roped into doing a ton of large family groups. Explain that you will capture groups as they occur," adds the photographer. If it's going to take you months to deliver the photos, let the couple know in advance.
DON'T miss colorful background detail. For the Brooklyn, NY, wedding pictured above Dennis Pike included an ersatz NYC taxi and the Williamsburg Bridge.
DO learn the basics. Visit the websites of wedding photographers and see how they do it. "Try assisting an experienced wedding photographer. You will see first hand how it's done, with zero pressure on you," recommends Dennis Pike, the northern New Jersey photographer who shot the couple in the car at left. "The more prepared you are, the more confident you will be, and the people you are photographing will feed off of that."
DO pre-plan. "Don't walk into a wedding thinking you can go with the flow. Weddings aren't like street photography, where you can walk around taking pictures," says wedding pro Jonathan Scott, who has studios in both New York and Florida. "Pre-planning will make sure you don't miss important shots." Scout the location in advance for good backgrounds and lighting. Do Internet searches for the venue to see how other photographers capture the location.
DO ask what the couple wants. Pre-planning includes finding out what pictures and which guests are most important to the couple. "Make sure you get good portraits of the VIPs," says Pike.
DO know the agenda. Learn in advance how the day will flow. "You need to know what is going to happen and when in order to be in the right place at the right time. Be sure you find out, for example, when classic moments like the first kiss, first dance, and the cake cutting will occur," says Dennis Pike.
DON'T be afraid of high ISOs. It's better to take a sharp, noisy image at 1/500 sec and ISO 6,400 than a low-noise image that's blurry at 1/30 sec and ISO 400. You can always do noise reduction when processing your RAW files.
DO finesse compositions. Instead of asking her subjects to move, Hotchkiss moves herself. "You don't want to disturb the moment by heavy-handed posing. I block out unwanted background clutter by tweaking my position left, right, up, or down." She also says to be aware of the lighting. If, in your viewfinder, the lighting looks harsh on your subjects' faces, it may look even harsher in the final image.
DON'T be shy about directing your subjects. They want to be told how and where to stand, explains Dennis Kwan, a wedding and portrait specialist with studios in New York City and Los Angeles. Giving subjects direction projects a confidence that allows them to relax when being photographed. "It tells your subjects that you know what you're doing, even if maybe you don't," says Kwan.
DON'T obsess about sharpness. Todd McGaw shows how soft can be romantic in the image below.
DO follow the smiles. The most expressive people will make your best subjects.
DO capture the beauty. If the bride is up for it, orchestrate a fashion shoot.
DO preset your camera. Make sure you're capturing high-resolution JPEGs, RAW files, or both. Set auto white balance and evaluative metering, and turn on lens stabilization.
DO shoot a lot. Kwan warns that nonprofessional photographers often err by not shooting enough. "Especially with groups, always shoot more frames than you think you need. It will make sure you have at least one good shot where everyone is looking at the camera and no one is blinking," he says.
DON'T shoot with unfamiliar gear. If you'll be using a camera that's new to you, put it through its paces before the big day. You don't want to be fumbling with controls while subjects are waiting. "Wedding moments only happen once, and when they pass, they're gone," says Pike. "You have to be able to work accurately on the fly."
DO get reactions. After classic wedding moments like the bride coming down the aisle or the first kiss, turn your lens on the guests and capture friends and family.
DON'T skimp on batteries or memory cards. The last thing you want, says Pike, "is to find you have space for only 30 more photos on your last memory card with two hours left."
DO back up extensively. A common mistake among nonprofessionals, says Pike, is inadequately backing up wedding files. This includes immediate Internet, hard drive, and DVD backups, but also instructing the wedding couple that they, too, are responsible for backing up digital wedding pictures. Also, as you pull full memory cards from your camera, store them securely, all in the same location. "One of the worst things that can happen is losing a memory card," warns Kwan.
DON'T worry about shot lists. "Avoid getting mired down in a must-have shot list that you found on the Internet," advises Rich Lavigne, who, with wife Anne, operates a wedding studio in South Plainfield, NJ. "Stay alert to the moments that are happening all around you. Look for smiles, laughter, singing, or tears. If you're looking for and photographing these moments, you're doing a pretty good job of capturing the spirit of the day."
DO have fun. Capturing treasured wedding moments can be a gratifying project for all involved. Embrace the moment, embrace your friends and family, and don't forget to smile while you're doing it. Follow these suggestions and your pictures will reflect the joy that makes weddings wonderful.
DO simplify complex scenes. One way to simplify? Convert to black-and-white.
DON'T miss the action. When the dancing starts, set high shutter speeds and capture multiple moments by shooting continuously.
DO get close. This is especially true for must-get moments like the timeless first kiss.
DO use the best equipment possible. If necessary, rent or borrow a DSLR with great low-light capability, plus a fast f/2.8 zoom—either a 24–70mm, 70–200mm, or both. A reliable shoe-mount flash is also important, with wired or wireless provision for using it off-camera in TTL mode. Power your flash with rechargeable NiMH batteries, not lower-capacity and slow-recycling alkalines. And bring a back-up camera and flash.
DON'T try to do it alone. Need help aiming that off-camera flash? Enlist the help of friends or relatives. "It's nice to have someone help organize your equipment," says Scott. This is especially true if you're working in an environment where someone might walk off with an unwatched camera bag. While you're shooting group portraits, an assistant can gather (and tidy up) the next group.
RELATED
Olympic photos make their way from the backs of cameras to the rest of the world in record time. Here's how that happens.
READ NOW
RELATED
In his new book and exhibition 'BRINK,' photojournalist David Butow documents the rise, the drama, and the upheaval of the Trump era in Washington, D.C.
RELATED
Just in time for Valentine's Day, three handy methods for removing a former flame from just about any photograph.
Want more photography techniques, camera reviews, and inspiration?
Sign up for Popular Photography's newsletter and join the club.
We are a participant in the Amazon Services LLC Associates Program, an affiliate advertising program designed to provide a means for us to earn fees by linking to Amazon.com and affiliated sites.
Registration on or use of this site constitutes acceptance of our Terms of Service.
© 2022 Recurrent. All rights reserved.
source
This post is made available by Emily Z. Photography, and may include articles written by different sources. Please follow their link to read the whole article.